Fukushima RJSF for FSX and P3D
Fukushima Airport (RJSF) is a Japanese local airport.
Fukushima Prefecture suffered serious damage from the massive tsunami in 2011. Since Fukushima Airport was located in inland, it did not suffer the damage of tsunami. However, some things have broken according to the earthquake.
Since it became impossible for Sendai Airport (RJSS) which is the largest airport in the Tohoku district to use it by tsunami, Fukushima Airport was used for rescue and support service.
Features:
*Custom landclass textures and seasons
*10m mesh around the airport
*High resolution textures
*Night Textures and lights
*Frame rates friendly
*Bundle the "Fukushima Sky Park"(small GA airfield) Lite Scenery
*Fukushima Daiichi nuclear power plant(with heliport)
*Landmark Aizuwakamatsu castle
*Landmark Onahama port (in Iwaki city)
*P3D v1.4 compatible.(v2.2 updater comming soon.)
*This product is incompatible in DX10 preview mode.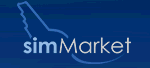 ---